Gary West has a unique perspective for the timeless music he grew up around at the Grand Ole Opry. He honed his craft while sitting backstage in Dressing Room #3 at the Grand Ole Opry, watching, learning, and waiting to play the next show.
His Nashville journey began in 1988 when he toured with Tommy Cash and backed him up for a 30-day tour through most of Texas. Later that year, Gary played on the Grand Ole Opry for the first time with his hero and Grand Ole Opry star, Del Reeves. Gary continued on to work with many great Opry legends over the years, including 12 years with the great Little Jimmy Dickens. He additionally toured with Jett Williams and The Drifting Cowboys (Hank Sr.'s original band with Don Helms and Jerry Rivers), The Legendary Drifters, Melba Montgomery, and backed up many more like Johnny Paycheck, Charlie Pride, LuLu Roman, Porter Wagener, Hank Thompson, and many more. 
A lifetime of great musical experiences brings stories, showmanship, music, and memories; a true gift handed down from the amazing pioneers of country music to the ones who were there to receive it. There is a sense of passion and duty to carry on the music that is so revered, yet seemingly becoming extinct. Gary strives to keep tradition alive with a growing and loyal fan base that ranges from longtime classic country fans to a whole new generation who are excited to discover this enduring music for the first time. 
What separates this show from the rest is that Gary is NOT a Johnny Cash impersonator. Though the sounds can sometimes be haunting familiar when Gary decides he wants to sound like Cash, Willie, and a dozen more voices. He will captivate and entertain an audience just as his predecessors did by combining great vocals, the reimagining of classics, as well as original songs that seem like standards after the first time you hear them. 
The Story
Gary West was born and raised in a rural farm area 35 miles east of Indianapolis, Indiana. His given name was Gerald Boger Jr. In 1985, while on tour with Tommy Cash (brother of Johnny Cash), Tommy told Gerald that he needed a new name if he was going to be in show business. Later that night during Tommy's performance, Tommy introduced Gerald as, "Gary West on the drums." The rest, as they say, is history. That same band that was backing Tommy Cash that night was formed by Gerald in 1978, The Royal Aces. Amazingly that band continued to perform all over the US and Canada for 13 years. In 1988, Gary moved to Nashville, Tennessee in a 1963 GMC 4104 tour bus with everything he owned in that bus…and the journey began.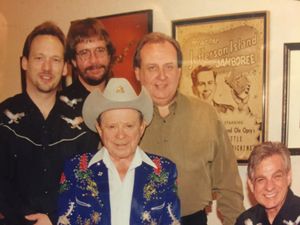 After a few short weeks in town, Gary landed an artist gig with Grand Ole Opry star, Del Reeves. Gary went on to perform with many country music legends such as Little Jimmy Dickens (12 years total), Jett Williams (1 year), The Drifting Cowboys (1 year), Del Reeves (2 years), and backed up many legends like Johnny Paycheck, Jean Shepard, Charlie Pride, Hank Thompson, Melba Montgomery, Ferlin Husky, the Legendary Drifters and many other Grand Ole Opry legends.  Gary recalls, "One of my favorite things to have been a part of was The Drifting Cowboys. This was Hank Williams Sr.'s original band with Don Helms on steel guitar and Jerry Rivers on fiddle. These two men were icons in country music history who played on the early Ray Price, Patsy Cline, and Hank Williams recordings, to name just a few. We toured all over Germany, Switzerland, Holland, and the US that year. We also performed with Jett Williams on the German Country Music Awards. What an unforgettable experience!"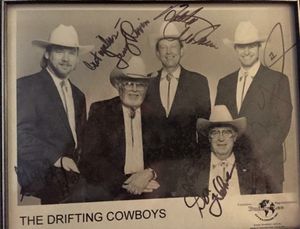 As an artist, Gary performed throughout the US and Canada as "Gary West and the Wild Wild West Band!" This was a hard-driving, country/rock style sound with steel guitar. In the 90s, "The Gary West Trio" became very popular in Nashville and he enjoyed a six-year stint at the world-renown Opryland Hotel in Nashville, TN. He mainly performed at the Pickin' Parlor and the Jack Daniels Saloon located inside the hotel.

One night, backstage at the Opry, Justin Tubb (son of Ernest Tubb) invited Gary to be a guest on the famous Ernest Tubb Record Shop. This is one of the longest-running radio shows in the world and has left a profound mark in music history. It was truly an honor to perform and be invited by Justin Tubb himself.
 
The push to be a Nashville recording artist continued as Gary worked with different managers, including Mike McDaniel (brother of Mel McDaniel) and Kari Reeves/Del Reeves Productions (she got Billy Ray Cyrus his record deal). He has additionally sung demos for many songwriters. In one studio alone he lent his voice to 65 demos in one summer. He also performed on several demos at Jim Allison's studio (Jim wrote seven #1 hits for Reba) and co-wrote with Jim Allison and Kari Reeves.

In 2002, Gary took a break from singing but continued to perform with country music icon "Little Jimmy Dickens" on the Grand Ole Opry. In 2009, there were changes made in the Grand Ole Opry and the decision that stars with Country Music Hall of Fame status were no longer able to keep their road bands on the Opry after they retired from the road. Sadly, in mid-November of 2009, Gary and about 16 other musicians were cut from the roster. 

In 1998, Gary began producing his own music and continued to produce projects for many songwriters. Gary began using his technical talent and his own recording studio as a service to other musicians, songwriters, and artists. Some notable people Gary has recorded or produced for specific projects include Mark Collie, Craig Campbell, Ken Mellons, Terry Bayless, Jason Roller, Buddy Spiker, Fred Newell, Johnny Hiland, JD Myers, Chuck Courtney, Becky Coyle, Brian Glenn, Doug Jernigan, Chasing Lexi, Mark Cash, Dennis McCall, Kim Parent, Cotten Payne, Hoot Gibson, Darrin Vincent, Ric Sandler, Mike Oldham, Jessica Miller…and more.